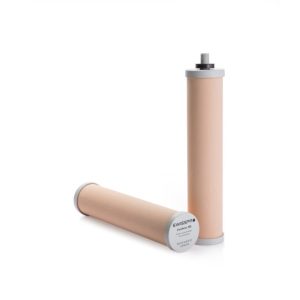 "What is so unique about ceramic filters? You may ask. Mother nature often has raw materials that we could use for everyday needs without breaking our banks, and ceramic is one such example."
Tap Water is Totally Safe?
There is often a misconception among city dwellers that the installation of a household water filter is unnecessary. Surely our water is safe for consumption? This may be relatively true for urban cities such as Singapore.
However, chemicals including chloride & sulphate are still present in our drinking water. Chlorine is a sanitizer required for water treatment, but may present a strong odour, cause skin allergies or dry our hair. According to PUB, water from Choa Chu Kang and Bedok Waterworks has an average of 35 to 100 mg/L of Chloride and 30 to 60 mg/L of Sulphate.
Ceramic Usage Since Ancient Civilization in Greece
The potential side effects from tap water can be eliminated by using a ceramic household water filtration system. With a modest appearance, ceramic has been used for storage of water and building of water pipes since ancient civilization in Greece. Swisspro adopts this age-old wisdom to formulate a ceramic filtration technology adaptable to modern day consumer lifestyle.
Ceramic filters found in all Swisspro systems are made from a special proprietary formula consisting of earth, clay and silver. Silver releases small quantities of positively charged ions to destroy microorganisms, inhibit enzyme growth, kill bacteria and prevent re-contamination.
While colour of ceramic might vary slightly, performance is never compromised. No chemicals are added to this all-natural composition.
Cysts compounds, which measure approximately 2 to 6 micron, are particularly resistant to chlorine, freezing, heating, abrasion and ultraviolet light. Swisspro's unique 0.2 micron silver incorporated ceramic filter is therefore the perfect health partner to trap suspended matter, cysts and harmful bacteria as small as 0.2 micron from your drinking water. Besides, the silver coated quartzstones and silver incorporated ceramic kill away any airborne bacteria in the tap especially when the tap is unused for a period of time.
With such a comprehensive purifying system, you can be sure that you are enhancing your drinking experience with safe, clean and pure tasting water. What's more, ceramic is a natural, reusable and cleanable material.  You would be glad to know that you are contributing to the earth's well-being by using a durable and biodegradable product.
Everyone deserves healthy, natural and fresh tasting water to drink. Ceramics is a good filter by nature and provides cooling effect to the water while maintaining its natural taste. Investing in a chemical-free ceramic water filtration system today might be one of the best gifts you could give to yourself and your families to bring you a long way.